Pilates
Pilates is a systematic holistic body workout, which mainly addresses the low-lying muscle groups. The focus is on the so-called «powerhouse» – the low-lying back and abdominal muscles, which together with the pelvic floor provide stability and an upright posture.
The pilates exercises are either trained on equipment or directly on the mat and are flowing, controlled and performed with rather few repetitions, so that muscles and joints are spared.
Conscious, calm breathing plays an important role in pilates. It promotes the circulation of all structures, relieves tension and helps to become more stress-resistant and more balanced in everyday life. Therefore, pilates may also be referred to as training for body, mind and soul, which leads to a new body awareness with regular execution.
Pilates is gentle yet intense, exhausting and at the same time relaxing, demanding and yet easy to learn for everyone.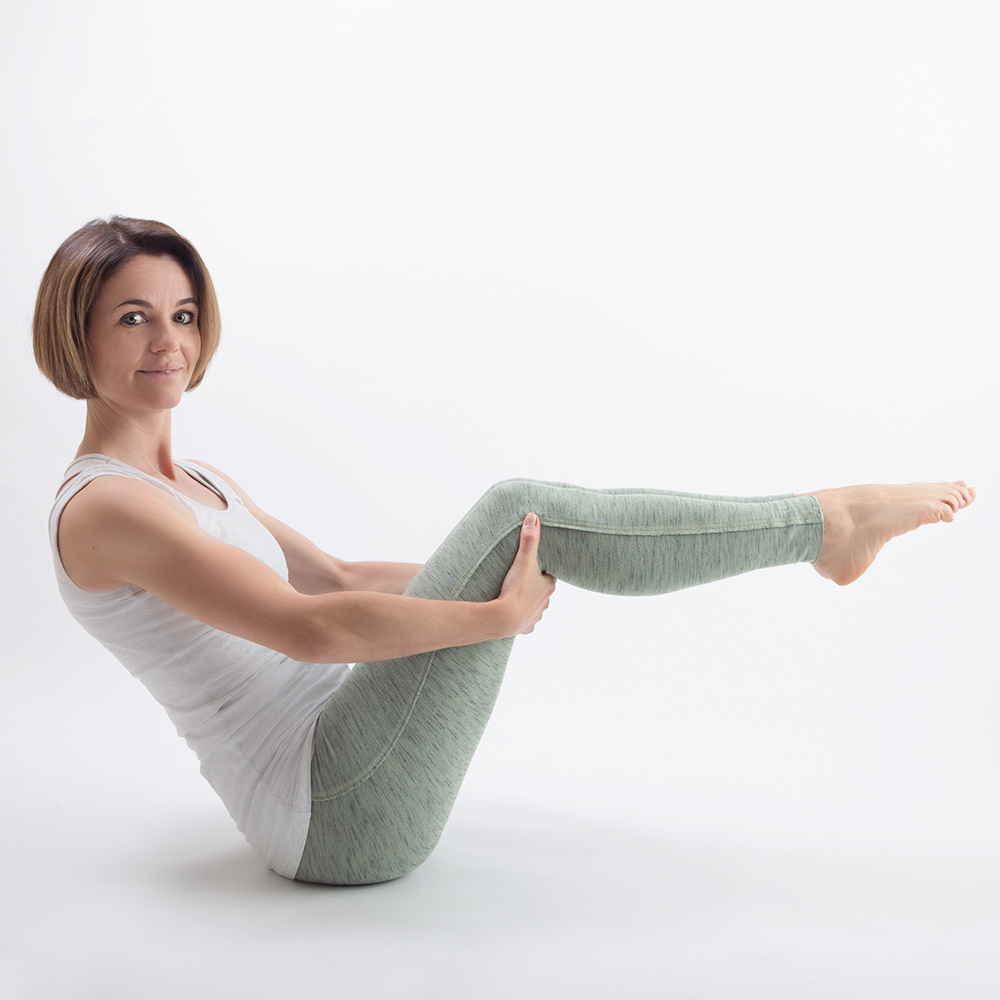 The Pilates offer from Nanea

Pilates mat
Prenatal Pilates
Postnatal Pilates
Pilates for Golfers
Pilates mat
Mat training is mainly done with your own body. The exercises are performed in different positions directly on the mat. The training can be supplemented and modified by various small devices such as toning balls, magic circles, foam rollers, soft balls, elastic bands etc. This makes pilates versatile and diversified. The group lessons on the mat are suitable for beginners as well as advanced.
Start: Possible at any time (ongoing lessons)
Day/time:
Monday, 9:30 – 10:30 am (60 min.)
Monday, 7:45 – 8:45 pm (60 min.)
Tuesday, 7:30 – 8:30 pm (60 min.)
Thursday, 5:30 – 6:30 pm (60 min.)
Friday, 8:30 – 9:30 am (60 min.)
Trainer: Franziska
Cost:
Single entry CHF 25
10x subscription CHF 230
20x subscription CHF 420
30x subscription CHF 570
Prenatal Pilates
«Prenatal Pilates» is a pilates training adapted to the needs of pregnant women. If you are pregnant and do not want to give up exercise in this exciting time and want to feel healthy, flexible and well-balanced until birth, «Prenatal Pilates» is for you.
Pilates helps to minimize discomfort during pregnancy, to promote inner peace and balance and to increase well-being. During pregnancy pilates leads to a good body awareness and strengthens the self-confidence with regard to the birth. An easier birth and a shorter recovery time afterwards are also supported by the regular training. «Prenatal Pilates» does not replace your birth preparation.
Start: Possible at any time (ongoing lessons). It is recommended to start pilates as early as possible in pregnancy. From the 12th week of pregnancy or after successful first trimester test you are very welcome.
Day/time:
Tuesday, 6:15 – 7:15 pm (60 min.)
Trainer: Franziska
Cost:
Single entry CHF 25
10x subscription CHF 230
20x subscription CHF 420.–
30x subscription not available
Info: If you do not abort your subscription during your pregnancy, you can use it after birth for the «Postnatal Pilates» course. The remaining lessons are fully credited.
Postnatal Pilates
After the birth, it is not just about finding your way around your new role as a woman and mother, but also of finding your way back to your own changed body. Pilates is perfect for rebalancing the body after birth. The focus is on building and strengthening the deep muscles of the pelvic floor, abdomen and back. The body refills new strength and energy, in order to exist in the Mami everyday life.
In addition to a lot of movement, this course also looks at the anatomical aspects of regression. And last but not least, the post-natal course is also a place for exchange with other mothers.
Start:
After a spontaneous birth at the earliest 6 weeks after birth

After a caesarean section at the earliest 10-12 weeks after birth
Ideally, a postnatal course is started within 4-6 months after birth. However, it is not too late to start a postnatal recovery course. The course can be attended up to one year after birth. The course takes place without baby.
Course start: see dates below (closed course)
Day/time:
Monday, 6:15 – 7:30 pm (75 min.)
Trainer: Franziska
Cost:
8 course units of 75 min. each, CHF 240 (incl. documentation)
Course dates 2019:
Course RB-201902

    

4.3.* / 11.3.* / 18.3. / 25.3. / 1.4. / 8.4. / 15.4. / 29.4.  (*school holidays; 22.4. = Easter Monday)
Course RB-201903    27.5. / 3.6. / 17.6. / 24.6. / 1.7.* / 8.7.* / 15.7.* / 22.7.*  (*school holidays; 10.6. = Whit Monday)
Course RB-201904    5.8.* / 12.8.* / 19.8. / 26.8. / 2.9. / 9.9. / 16.9. / 23. 9.  (*school holidays)
Course RB-201905    21.10. / 28.10. / 4.11. / 11.11. / 18.11. / 25.11. / 2.12. / 9.12.
Missed lessons cannot be made up for. It is not possible to join an ongoing course.
Pilates for Golfers
Are you a passionate golfer and would you like to start the season well prepared? Then «Pilates for Golfers» is perfect for you.
The focus is on strengthening the deep muscles of your torso, improving the mobility of the thoracic spine and shoulder girdle muscles as well as a good lumbar spine-pelvic alignment for more stability in the body.
Conscious breathing in Pilates also improves concentration and coordination skills and increases body awareness, which allows you a painless golf game.
The right technique for playing golf is one thing – physical fitness and mobility is another. So why not train both? «Pilates for Golfers» is open to women and men of all ages. Basically no previous knowledge is necessary, but pilates or yoga experience is an advantage.
Start: Possible at any time (continuous lessons)
Day/Time:
Friday, 10:00 – 11:00 am (60 min.)
Dates:
31.5. / 7.6. / 14.6. / 21.6. / 28.6. (single lessons bookable)
Trainer: Franziska
Cost:
Single entry CHF 25.–
Single entry for members of the Engadine Golf Club CHF 20.–